Memorandum of Understanding signed with Deputy Minister of Planning and Economy
sfida en
The Memorandum of Understanding was signed between SFIDA and the Deputy Minister of Planning and Economy, Ministry of Agriculture-Jahad.
The optimal use of capacities, facilities and resources of both parties for synergy in the implementation of agricultural transformation programs with the new approach of the ASIDA is emphasized by the MOU.
MOU states that the level of coverage and the number of funds will be increased through the formation of new Funds at the national and regional levels or the coverage expansion by establishing new Funds in the urban areas of which the government's share capital will be provided by deputy. Also, the number of shareholders and the capital of the Funds and payment facilities should be developed and the distribution of financial resources of the government agencies should be done more.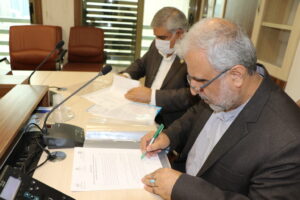 The Deputy Minister of Planning and Economy also pledged to: follow up to remove obstacles and facilitate the processes needed to implement the agricultural transformation program with a new approach, support and finance the government's share in forming and increasing the capital of Funds in order to fulfill the commitments of SFIDA. From all the programs of the SFIDA and following up and supporting the hand over the activities related to the Ministry of Agriculture-Jahad to the Funds, cooperating and supporting the conclusion of contracts with support loops for contract agriculture in the form of value chain and creating an intelligent system to receive performance reports from Fund to support the development of investment in the agricultural sector.