»
News & Events
» "International webinars can strengthen the relationship of SFIDA and its FUNDS with international organizations"
"International webinars can strengthen the relationship of SFIDA and its FUNDS with international organizations"
sfida en
Chair and CEO of SFIDA, Janali Behzadnasab inaugurates the Webinar entitled "Micro-savings and Micro-investment in Agriculture: Experience of My House My Farm" on 4 Dec 2021 and mentioned this specialized meeting is in order to use the experiences of other countries and also to strengthen the international cooperation of most of the funds with overseas organizations related to the agricultural sector.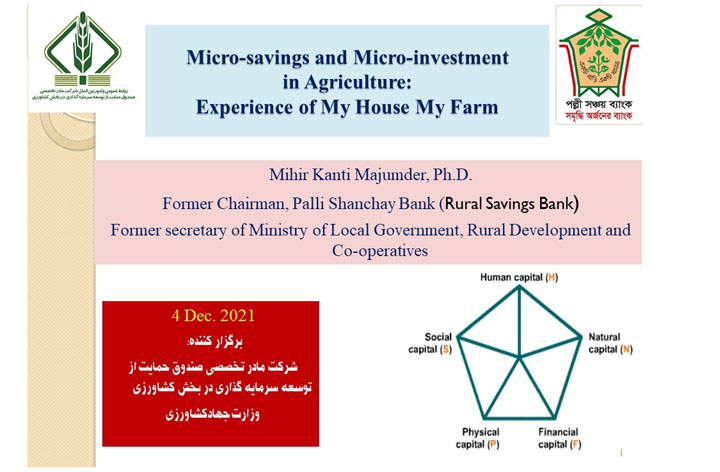 "This webinar on investment and development in the agricultural sector, entitled 'Experiences of the National Program of My Home, My Farm in Bangladesh', focuses on Micro capital saving and can be an example of specialized meetings that lead to Increase cooperation between international funds and institutions, He added.
Mihir Kanti Majumder, Ph.D., former Chairman, Palli Shanchay Bank (Rural saving Bank), was the key speaker and briefed about the followings:
1. The rich natural resources of Bangladesh which considered as Environment Capital
2. Different type of capitals which poor people are only rich in Social Capital
3. Traditional Family farming which was less productive because of inadequate skills as well as inappropriate technology.
4. Micro-savings concept & its Practice in Bangladesh changed from "saving one fist of rice in earthen pots before cooking of meals daily and keeping coins/currency notes under the mattress" to "Mobile banking, agent banking, School Banking and modern saving".
5. Hindrance of Micro-savings Practices: Poor people have less income and they can't save
6. Concept of Amar Bari Amar Khamar (My House My Farm): Promote Micro-savings practices
The power point file is attached here for more information.